Welcome to practical-shotgun.com we hope you enjoy your visit, the site is intended to be a resource that dynamic shotgun competitors can use to improve performance by sharing techniques and strategies. We also hope that this information will encourage new competitors into the sport.
This site was launched in March 2017 and we will be adding more content on a regular basis including:
Films on gun modification and repair topics
Training tips from top shooters & club coaches
Sessions with sports coaching experts
Match info
Equipment tests and impartial reviews
Reloading info
Moving target designs
Please use the contact form if you have any suggestions for topics that you would like to see added to the site and feel free to ask questions, also if you would like to become a contributor please get in touch.
Guidance for anyone considering modifications to a shotgun loading port, pitfalls and possible methods are discussed.
Read More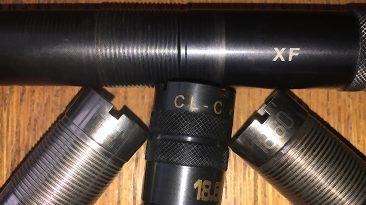 The choke is a tapered constriction placed at the muzzle of a shotgun barrel, it reduces diameter below that of the bore and its purpose is to shape...
Please help to keep the site impartial
It is important to us that the site remains impartial, reviews after all would be meaningless if we were paid by equipment manufacturers to post them, so we do not accept advertising payments from anyone who makes the products we review. Practical-shotgun.com is a participant in the Amazon EU Associates Programme, an affiliate advertising programme designed to provide a means for sites to earn advertising fees by advertising and linking to Amazon.co.uk. Any purchases you make after following one of these links, including the one below, will help us to fund the site.
Practical shooting is a dynamic shooting sport where competitors strive to find the perfect balance of accuracy, power and speed - mastering this combination makes it a highly challenging sport. Practical Shotgun adds the additional element of using 3 different ammunition types - birdshot, buckshot & slugs - which are used on courses of fire with multiple targets including moving targets, targets that react when hit and penalty targets. Sounds like fun? Then please get involved, here are some New Competitor FAQs to help you get started.