The sport of Practical shotgun has been around since the 1980s (nobody can agree on exactly when) but it saw a considerable growth when competitors in Great Britain could no longer shoot handguns after that country's firearms laws changed in 1997. When the sport was conceived, we had nothing better to hold our ammo than converted clay or game shooting belts. Next came various versions of the caddies which enabled the shooter to grab multiple shells and work them into the loading port while holding the gun up with one hand.

Then a clever chap went to a plumbers merchant and bought pipe clips which he turned into a rig that held 2 shells vertically and Load-2 was born. Chameleon, Taccom, Invictus, Safariland and others made commercial Load 2 rigs and eventually Quad-Loading came from Load-2. Up to this point all rigs relied on moulded plastic to hold the shells in place, which sometimes wore out or cracked and was a bit stiff in terms of release force in order to guarantee sufficient retention. This improved when companies like Ghost and AP Custom made metal spring clips but the real revolution came when a couple of clever Finnish gents made the first magnetic retention rig and called it King. Since then magnetic retention has become the norm for most manufacturers and is now moving in some cases away from 3-d print to injection moulded construction.

This brings us to the present day where 95% of shooters in Standard, Standard Manual and Modified at the IPSC World Shotgun Shoot III in 2018 were using one of the following five most popular magnetic caddies: King, Magload, Awen, Z-Gun (pictured L-R above) and Ezload who have also launched a new rig which we didn't get one in time for the first version of this review but it has been added now. We asked them all to supply 12 shell rigs as they are used by both Practical shotgunners and 3 gunners, however each company can provide holders from 8 to 32 rounds in multiples of 4. 
We tested each caddy for Weight, Width, Crush resistance, Pull resistance, Magnetic force, Finger room, max length of shells, minimum length of shells and amount of shell visible for your thumbs. The results are in the accompanying video and can be summarised as follows: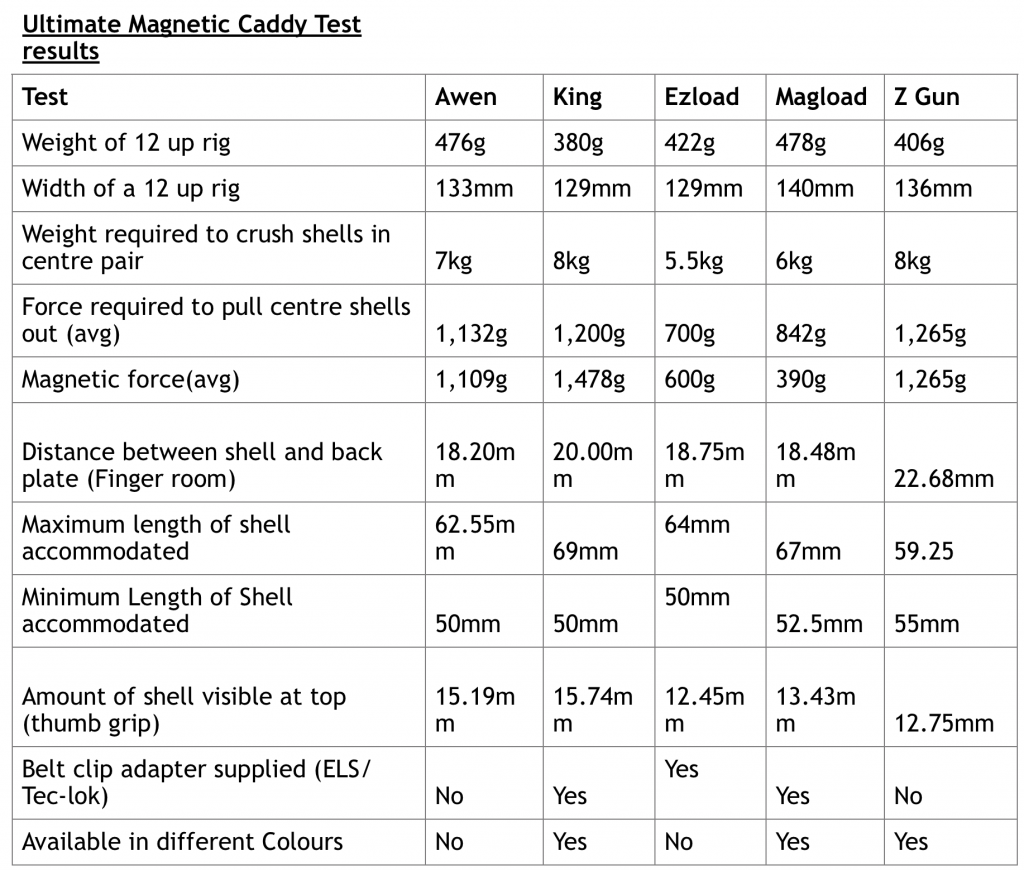 Awen are based in Spain and can be purchased from their website. The basic design is similar to most with a metal back plate and plastic components, they are well made and none of the springs are exposed to the elements, however they have a fairly short 'micro' adjustment range and are one of the heaviest caddies in the test. In terms of shell release and retention they sit right in the middle of the group but are the only ones in the test where release force can be adjusted (the factory settings were used for the test).
Ezload's creator and owner is Magnus from Sweden, a keen international IPSC Shotgun competitor himself, built the original Ezload caddy for his own use and things have spiralled from there! This is the latest version; it differs fundamentally from the Nxtgen in the materials used. Like King Competition, Ezload have invested heavily in plastic injection moulding tools, so the new caddies are made from Carbon reinforced plastic as opposed to being 3D printed. The springs used are stainless steel, so will not rust and the back plate is fully anodised. This caddie sits in the middle of the pack for overall weight, but is equal narrowest with King, it has the second lightest release force after Magload and sits right in the middle for finger space and shell size accommodation. It also comes with a versatile belt attachment accommodating Double Alpha, Safariland and Tacom which should prove popular in the USA with the 3 gunners. Its biggest advantages are that nothing is exposed to the elements and its narrow size and weight allows you to fit more shells on your belt rig.
King Competition products are the love child of Kim Leppanen and Jaakko Viitala, two of the best practical shooters in the world who were the first to use magnets to hold the cartridges in their caddies. The Gen 6 is a very well built, tried and tested design, utilising a thin metal back plate with strong steel rods to give rigidity, this makes their caddies the lightest on the market without compromising retention. Retention and macro shell length can be user adjusted with one allen key. The rods and springs are open to the elements which, depending on your point of view, could mean they can get clogged up in muddy conditions or could mean they are easy to clean. With that said, they obviously work well in the Finnish weather!
Magload products are the brain child of 'Conners' from the UK, he's a keen competitor himself with more than a touch of the 'Mad Scientist' about him! His caddies, although using a backplate like the others, has a very different design. It has the lightest release of all the caddies and uses only one magnet at the top, relying more on the constant spring pressure from below to hold the shells firm. It provides the second largest adjustment range of all the caddies, without ever needing to adjust anything, but its unique selling point is it can be user configured for left or right hand use. 
 Z-Gun, from Russia with Love – they are built like a tank, with the best anti crush force and the heaviest release force. They use a plastic back plate which makes them almost as light as the Kings, they are beautifully built and allow the most 'Finger room' for big Russian hands. They only have a relatively small shell adjustment range, but this should be adequate for most shells used by Practical shotgunners. 
Author Profile: Clive Gamlin joined our editorial team in 2018, he also works in insurance since losing his job as an extra in Father Ted when Ted died. Clive is well known as a Senior Standard competitor on the international match circuit and is family team manager/sponsor for his talented shooting son Chris. Sadly Clive also has to pay for some non-shooting children who dance and do other stuff however he is happily married to the very lovely Mrs G who lets him go away to shoot whenever he likes.