All tube fed guns in practical competition have an extension tube and there is a lot of choice in the market so we decided to do a group test to see how the various options compare. To do this we decided to look at factors including weight, features, build quality and availability.
Since the tubes we got to test are all different lengths we did some maths to establish a weight for each based on a nominal 13 round capacity. Please note, not all the tubes are available in this length, it was extrapolated to level the field in weight comparison terms. We think this is an important factor to consider since tubes extend far ahead of the support hand and it was notable during tests that tube weight does make the gun feel quite different. Physics would also suggest that a lighter gun would be advantageous for transition speed and stopping on target.
We tested them all for ease of loading and could find no difference between tubes in this respect since the same spring was used to try them all with one exception, the Pinyo Wizard would not work with the Toni spring we were using and requires it's own spring which is supplied with the tube. That's not an issue as long as you know about it and have an appropriate spare with you as using whatever is available may not be an option with this tube.
From the top down we have Magload, Nordic, Lancer, Toni System, Masterclass Custom and Pinyo Wizard.

Lancer
This carbon fibre tube has a bonded aluminium mag nut and end bung, so you can not open it to clean from both ends, not a big deal but worth mentioning as you may have to use a different cleaning routine. Our test tube came from the US but Lancer's website shows a worldwide dealer network so you could check for stock with someone closer to you if you want one of these. The first impression when unwrapping this tube is that it exudes quality and fitting it to the gun confirms that it is nicely made with click retention engaging just like an OEM tube end cap. The carbon looks great and is of course a big help with weight.

Weight for 13 capacity – 130g – 2nd/6
Build quality – Excellent
Availability – https://lancer-systems.com/awc/product/benelli/
Summary – Buy this tube if you want a big weight saving over aluminium and like beautifully made things.
Magload
The Magload tube is also made from carbon fibre and has a bonded on nut and end cap, so the same cleaning technique applies as with the Lancer, the difference is that Magload's end fittings are 3D printed from high strength polymer. After printing the mag nuts are reamed to get the thread profile exactly matched to the gun and when you screw this tube on there is a little resistance but in a reassuring 'this won't come loose' way rather than being hard to fit. We asked about durability and Conners from Magload explained that he ran one on his Supernova for a year with no issues before releasing them to market. Magload make these to order which means a 2 or 3 week lead time but also lets you pick the exact length you want rather than having to chose from a series of fixed options, this could be good for Modified guns where gun and stock length need to be taken into consideration to get a tube which keeps the gun overall under 1320mm for IPSC rules. The tube in our test has an external cap which maximises internal capacity but is not quite as neat as the internal version, this could be important if you need an exact internal capacity and you would do well when ordering to discuss these implications with Conners. Magload also supply a polymer tube clamp with this tube to complete the low weight package.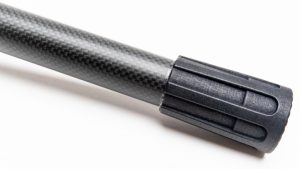 Weight for 13 capacity – 110g 1st/6
Build quality – Good
Availability – made to order in 2/3 weeks – https://magload.co.uk/shop/mag-tube
Summary – Buy this tube if you want a lightweight carbon tube made to your own spec for length.
Masterclass Custom
Masterclass Custom Guns were a Nordic stockist and when availability of these became extremely intermittent Andy Haines who owns Masterclass decided to start making his own tubes. The system comprises 6 options in gun specific coupling nuts and a selection of 5 length options. It is well made and screws together with an internal removable end cap which means the internal length is just 2.1mm less than the external dimension compared to the 3mm lost to a Nordic cap, maybe not important unless you have a Modified or Open gun that is flirting with 1320mm OAL. The tube is well made and available so we expect to see lots of them in use for these reasons.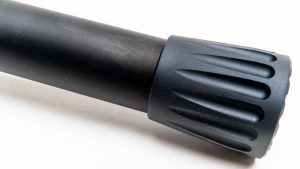 Weight for 13 capacity – 306g – 6th/6
Build quality – Good
Availability – various sizes from UK stock – http://www.customguns.co.uk/shop-page/4580285375/mccg-extension-shotgun-magazine-tubes/11333723
Summary – Buy this tube if you want an aluminium tube from stock in a variety of lengths and are not too concerned about weight.
Nordic
For a long time these were the tube used by most competitors but this has changed due to very intermittent supplies from Nordic and advances in technology both in material and functionality. These are still widely used but hard to get, although Nordic's website shows stock in the US none of the local suppliers we checked are showing them as available. Brownells will ship from USA but at £44.05 for the nut alone and with many of the tube sizes shown as out of stock it seems certain that supply chain issues will see these tubes declining as replacements are sought.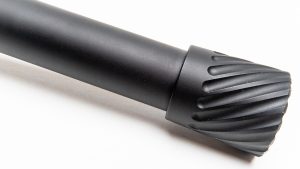 Weight for 13 capacity – 268g – 4th/6
Build quality – Good
Availability – https://nordiccomp.com/product-category/shotgun/
Summary – Buy this tube if… you can find one! Joking aside, well built basic tube in aluminium but no longer so easy to get outside USA.
Pinyo Wizard
This is a tube like no other and it took a lot of people by surprise at its debut during the 2018 IPSC Shotgun Worldshoot in France! It is telescopic with an internal spring that keeps it at the minimum length until the number of cartridges loaded causes it to expand. For competitors in Modified or Open there is an option to add a sleeve to restrict the overall length as the tube will be measured extended at gun check to ensure that the gun does not exceed the 1320mm overall length restriction in place for both those Divisions, this will still give a 12 round tube capacity according to the measurements we took on an M2 with a standard length stock and recoil pad. Competitors in Standard or Standard Manual have the possibility with the tube we received for testing to have a flush fit under a 24″ barrel and a 13 round capacity when this extends. Other length options exist but this one seems to make the most sense as 13 is is enough for most people and the closed tube is very compact.
This is the heaviest of all the tubes on test and there is definitely a difference in feel due to this but it is worth saying that when compressed the extra weight is closer to the gun than it would be with a heavy fixed tube. In terms of loading it feels good throughout the range and the effect of the internal spring coming into play as it starts to extend does not give a big alteration in force required to load, all in all it feels pretty seamless from the first quad until the last one.
Finally there is the issue of reliability, the other tubes have no moving parts so kept clean and undamaged they don't have much to go wrong, this tube has moving parts. Only time will tell for sure but the build quality seems reasonable (although minor smoothing had to be done internally for better feeding on our test sample, maybe just this sample) and these tubes are already being used by a number of competitors who hold single digit world rankings, these folk shoot and dry fire a lot so it would seem likely that any problems would have shown up by now. We did find the loose internal end cap which is held in place by the spring to be a bit fiddly during assembly compared to all the other tubes with attached caps.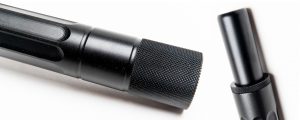 Weight for 13 capacity – 291g – 5th/6
Build quality – Reasonable
Availability – from stock in UK – https://www.facebook.com/blankmediams
For worldwide stockists ask the manufacturer – https://www.facebook.com/aristo.jza
Summary – Buy this tube if you want a very compact gun when loaded with 8 or 9 rounds but with the possibility to extend to 13 rounds if a stage plan requires more. Remember to carry spare Pinyo springs.
Toni System
This is a fixed length aluminium tube but unlike the others of this type on test the mag nut is integral and instead of having a screw on end cap you need circlip pliers to remove the cap for cleaning. The tube has a thicker section after the nut which reduces into the tube diameter and then flares again at the muzzle end to accommodate the end cap. This cap design gives an internal length which is 4mm less than the outside length. The Toni tube oozes Italian style and is available in variety of sporty colours and Toni also supply a matching skeletonised clamp to go with this tube.

Weight for 13 capacity – 223g – 3rd/6
Build quality – Good
Availability – UK stockist springfieldshootingacademy@outlook.com
Worldwide enquiries – http://www.tonisystem.it/EN/magazine-extension-shotgun.html
Summary – Buy this tube if you want a lightweight aluminium tube and appreciate stylish design.