Manfred Müller in Manching Germany is an optician with a difference - he specialises in making glasses for shooting.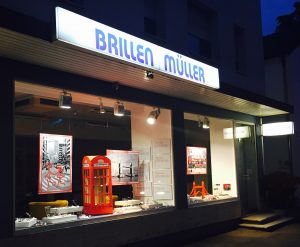 I made a stop in Germany en route to the L3 Shotgun match in Oparany this week, the purpose of the detour was to get some new shooting glasses on the recommendation of Mike Siva-Jothy, British Senior Standard Champion in IPSC Shotgun. What appears at first sight to be a relatively normal opticians practice in the quiet town of Manching is in fact a Mecca for shooters in search of high performance prescription eyewear for a wide variety of shooting sports.
My visit started much like a normal visit to the optician with an eye test but the difference with this practice is that the test is only the beginning and I had been asked to bring my gun when I booked the appointment – this enables further testing to take place in the special facility for shooters located in the basement of the premises.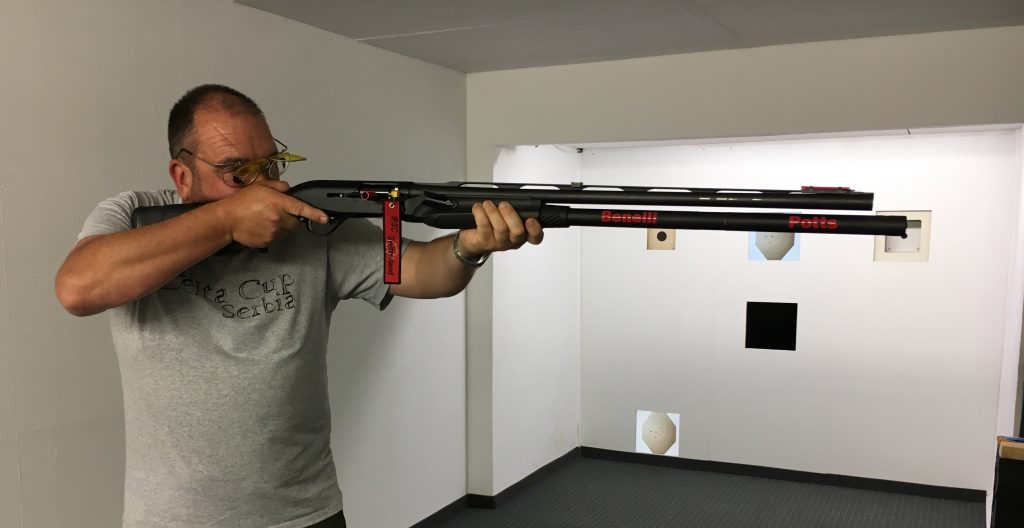 With test glasses made up to my initial eye test results the process moved to a demo area which simulates a shooting range where target types specific to the customer's sport are projected at distance and additional lenses are added to establish the best compromise between sight and target focus. The glasses you get from this process are made to an optimised shooting prescription rather than the normal prescription you would get for every day eyesight correction.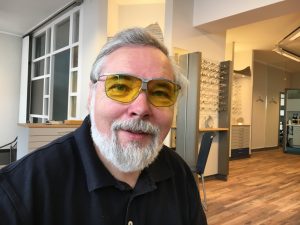 The next surprise is that the lenses are ground on site while you wait which gave me the opportunity to interview Manfred Müller to get the inside story on this remarkable service. It all began in 1982 when some German ISSF pistol shooters from Manching visited the practice and enquired about specialist shooting glasses. Manfred Müller was competing in air pistol events and he took the request on board, later developing techniques including writing a computer program to analyse data associated with shooters and their changing needs caused by ageing of the eyes. This led to Mr Müller becoming the optician of choice for a growing number of German shooters. Initially he saw 1 shooter per week and the business grew from there to include shotgun, rifle and hunting activities. The practice now supplies over 1000 pairs of glasses per year, shipping to 40 countries from America to South Korea and has dealer arrangements with 35 opticians in 9 countries.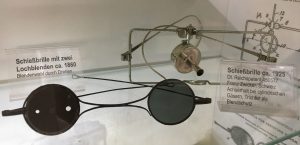 The story behind Müller-Manching's titanium Dynamik shooting frames was the next part of the picture to emerge over coffee. Manfred Müller told me that  he had searched unsuccessfully at optical industry trade shows for some years to find a suitable frame that went beyond the capabilities of the tiny lenses traditionally used for static shooting disciplines. In 2007 this led him to apply for a patent for his own design, the 'Dynamik' frame, which includes securely locked interchangeable lenses and a height adjustable bridge to adjust for prone shooting in a strong, lightweight titanium construction.
The bridge is just 8mm wide (half the size of a normal spectacle bridge) to avoid it coming into view when shooting and the difference is clear to see. The frame also accommodates a top rail for blinds and additional lenses, a feature that was included following Manfred Müller's detailed research into a wide range of activities from WA1500 pistol to IPSC disciplines as well as clay shooting, ISSF disciplines and hunting.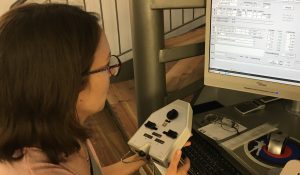 When a qualified optician joins the practice Mr Müller provides additional training for a minimum of 6 months in the techiques associated with measuring and making glasses for shooting before they are ready to work with customers. I was very impressed with the visit and the glasses provide excellent vision with all day comfort as well as being well secured by the curved legs fitted at my request from the many options available in this bespoke service.
If you would like to find out more about Müller shooting glasses here's a link – www.mueller-manching.de