Thanks to Clive Gamlin for writing about his personal experiences during his journey from shooting PSG club matches at his local venue in the NRA format, moving through a first IPSC season and ultimately the opportunity of representing Great Britain at the World Championships in France the following year. You're clearly a fast learner, Clive! Anyway, over to you:
It all started on a spring afternoon on 8th April 2017 – I picked up my son Chris and my friend Rob from our club (WNSC) and we started the long journey North to the Frozen wastelands of Grimsby and ultimately North Cotes Butts for my first IPSC Level 3 Shotgun match… well actually that's not quite true, while it can be chilly if the wind blows from the North Sea, the welcome is warm enough to make up for it.
It really all started in 2008 when my shooting club, The Bristol Muzzle and Breach Loading Gun club, arranged a Practical Shotgun course at Shield Shooting Centre in Dorset. Until then I had never shot Practical Shot Gun. I was a reasonably accomplished Clay Shooter, Game Shooter, DeerStalker and did a fair bit of Target Rifle shooting since leaving the Territorial Army in 1995, but this sounded like a laugh so off we all went. Back then everyone did the UKPSA's IPSC Shotgun Basic Safety Course if you wanted to do PSG. It was over a weekend with lots of practical instruction and an emphasis on safety, we all stayed down in Dorset either camping or in local hostelries. We all passed and were told we just needed to attend one or two competitions and we could then apply for our competition licence. As it turned out those competitions and our subsequent progression never happened, I understand this was due to the development of some politics between the venue management and the IPSC Region. As a resident of Bristol, my local PSG ground was Shield so I never ended up venturing beyond there and never did get my Competition Licence.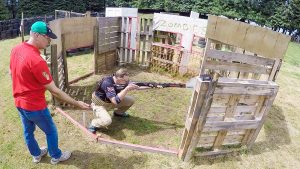 Anyway fast forward a few years and my Sons started shooting, Chris in particular became very keen. I had been using a Winchester SX3 with an extended mag tube, not really taking it too seriously and not investing any time in training, doing maybe 2 or 3 comps a year at Shield. One of my friends had a Saiga12 and always beat me so I bought one of the first MKA1919's and started shooting Open (the NRA having three divisions; Standard, Standard Manual and Open). My eldest son Chris was now 18 or 19 and decided to give PSG a more serious go so I decided to go back to standard, I traded in my SX3 and bought a 1301 so Chris could use the 1919. We shot all the comps at Shield and then started travelling to Romsey, Pheonix and eventually Bisley for PSG comps all under the banner of 'Four 4 Islands'. This then developed into the NRA Shotgun League a couple of years ago. We both slowly got better, starting to practice and eventually both buying Berretta 1301's and modifying them for quad loads, etc. both shooting in Standard Division. By 2014/15 some of our friends from Shield (namely Mark Sienesi and Cansh Pope) had started travelling all over the UK  and further afield to shoot IPSC Comps, culminating in their selection and attendance at the World Shoot in Italy in 2015. Initially Chris and I were still not too interested due to the large distances and cost of travelling to the more distant UKPSA matches but also the mistaken belief that UKPSA matches were boring, the people were all old, grizzly and unfriendly to anyone from that 'other' branch of Practical shooting. Of course we had met a few people like Andy Haines and Kevin Strowger at Shield now and again but didn't really get to know them. Then, I'll be honest, the allure of the World Shoot in 2018 started to have its effect. A group of the more serious shooters from Shield and the NRA decided to get involved, bury the hatchet and join the UKPSA. We asked Iain Corrigan to come and re-test us for our Safety certificates and Competition licences, so he came down from the North and spent a weekend at Shield drinking and shooting (but not at the same time obviously) and he eventually passed our group off as safe and we were good to go.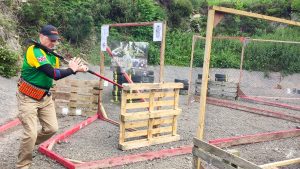 I will just mention at this point the main difference between the NRA and UKPSA – I am an NRA Range Officer but never did the NRA Safety course having already done the UKPSA one in 2008, so I cannot comment on the safety course, but the matches are different. The UKPSA is very rule based with written examinations and practical assessments, all UKPSA matches have the same rules as laid down by IPSC to be used worldwide, including standardised targets, whereas each NRA/F4i/3 Gun Nation match has its own rules, the targets are not standard sizes or shapes and some grounds are 'Gun Up' and some 'Gun Down'. This is not a problem as you are unlikely to be disqualified at an NRA match unless you do something dangerous but for those used to one set of rules can be confusing.
OK so back to North Cotes, our first match, we arrived late on Saturday afternoon and had a quick look around, most of the Pre-match shooting was done so we didn't get to see any stages in action. This is another area where the NRA differs, it is frowned on to visit a match on a day you are not shooting it unless you are RO'ing and Stage descriptions are not published in advance, whereas it appears positively encouraged at UKPSA matches to turn up early the day before, check out the stages, watch people shoot and Stages descriptions are available well in advance. I'm not convinced it's any great advantage to do this but each to their own, at least we knew where to go in the morning.
Rob, Chris and I were staying in a Hotel in Grimsby Town centre where some other WNSC members were staying – we got settled in and went down for Dinner. On the table next to us turned out to be Ken and Lewis Trail so we had a bit of banter being newbies, a couple of 'soft drinks' and went to bed.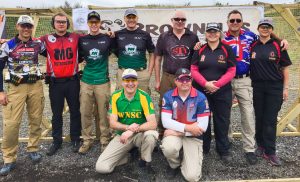 The next morning we arrived at the range and booked in. Chris and I were on the same squad and had to shoot three Slug Stages first – this would be our first challenge as it's the type of stage you are most likely to get sent home! Unlike most birdshot stages where the safety angles are 90-90-90, on a slug stage you cannot point the muzzle above the backstop. We were reminded of this by the RO but being used to Gun Down anyway, although we didn't achieve any blisteringly fast times, we did survive. What struck me from the outset though, was how welcoming and friendly all these UKPSA chaps were – we were not the butt of any NRA jokes, not treated like outsiders or worse and everyone was very helpful and genuinely happy to see we'd made the effort to come and join in the fun! It was a fun match too – interesting and challenging stages, no mixed stages, as this is not allowed in IPSC but we had Buck, Slug and Bird shot stages. Getting used to all the Short courses was different (again we don't adhere to the 3:2:1 principal at NRA matches) but both Chris and I did Ok for our first attempt and didn't get DQ'ed!
We then went to our first International match in Northern Ireland – it was great fun and we met competitors from all over the World, one of my NRA friends got DQ'd on his second stage, however, and this reminded me things were taken much more seriously in these matches. Again the camaraderie and welcome we felt was amazing with Northern Ireland's famous hospitality meaning the 'après-shoot' was defined by a very festive atmosphere…
Our third match didn't go so well for me – it was my first visit to the fabled home of the IPSC in the South of England, Dartford. Chris had been before as he did his full safety course there in January 2017. I did the first two short stages quite well but then got DQ'd by one of my best friends and fellow WNSC club members on his first outing as a supervised Range Officer for breaking the 90. I was not happy, but stayed and helped re-set and watched Chris successfully complete the match. It taught me one very important lesson – plan your stage and shoot the plan!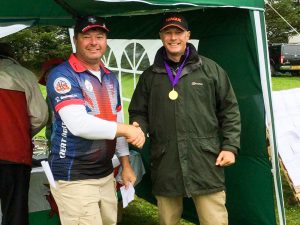 The rest of the year went well, shooting in Scotland, Borders, Rosendale, Wales and Dartford again. I turned Senior in June so shot the last 5 matches in that division managing a 1st and a 2nd in Rosendale and Borders and qualifying for the British Senior Standard Team for the World Shoot in 2018. I have made some great friends at the UKPSA matches, not come across anyone with any axe to grind or grudge to hold and although I wish we had at least one local IPSC L3 match, Chris and I have thoroughly enjoyed our first year in the UKPSA and are really looking forward to 2018 and France. On a personal note, I do believe the NRA and UKPSA can exist alongside each other in Britain – the NRA offering a great soft introduction to PSG and the UKPSA being the conduit into National and International matches and a higher level of competition.