Canadian Handgun GM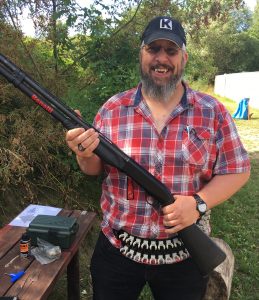 Robert Engh is a familiar face at IPSC handgun matches all over the international competition circuit but he had never shot an IPSC Shotgun event, a chance conversation on Facebook was to change that! When we discovered that Robert would be shooting the MOS L3 handgun event in Oparany, Czech Republic on the same weekend as the L3 Shotgun event we made a plan for Robert's shotgun debut and I packed some extra ammo so he could squad with me and share a gun. In addition to his IPSC Handgun shooting Robert has some 3-gun experience, is a very experienced all round shooter and coaches in his home club however this would be his first IPSC Shotgun match! So, how did it go? Well here's what Robert said in a post-match Q&A:
Most important question first, Rob, did you enjoy your first Shotgun match?
Robert – I had an absolute blast! There were things that surprised me and there were things that I expected but there were more surprises by far.
How did you feel your IPSC Handgun experience translated into Shotgun?
Robert – Stage breakdowns were done the same way and  target engagement sequences worked the same. Footwork was the same but reloading was quite different! Two little bastards at a time instead of 15!! Sight picture was similar on my borrowed gun but I did find myself trying to shoot the shotgun like a pistol occasionally pushing rather than pulling, like I know that I should have been. End result was a bruised shoulder.
What was the most challenging aspect of the match?
Robert – Reloading. Reloading. Reloading and moving while reloading while being aware of the muzzle which is so far away it can catch on walls. One other challenge was remembering to disengage the safety as I shoot Production where we de-cock instead of using a safety catch. Also unloaded starts are a tad more challenging as there is considerably more to do to make the gun go bang.
Which was your best stage and what did you enjoy most about this stage?
Robert – My best result was on stage 7 with 82% in 9.71 seconds, all Alphas on a buckshot stage. I loved beating Steve who lent me his gun! It was also the best shooting and moving stage for me, as it was more like a pistol run to me than some of the other stages, it was also  (4 stages in) where I truly started to feel comfortable with the gun.
Would you recommend Handgun competitors to give Shotgun a go?
Robert – Absolutely, yes! Just like going from Open to iron sights and back again it can make you a better shooter. In fact I think shooting shotgun WILL make you a better handgun shooter because it gives you a new awareness of what your gun is doing – if you pay attention – also it makes you more aware of body position and it's importance in recoil management.
Was this a one off or will we see you shooting shotgun again?
Robert – You will see me shooting Shotgun again, maybe even at the Shotgun Worldshoot in France next year and can I borrow your gun again next weekend for Philippsburg? Thanks, Steve, for the gun, ammo and invitation to join the practical-shotgun.com team, thanks also to our squad for the encouragement and advice throughout the match.
Robert finished in a very creditable 28th out of 47 in Standard with 59.84% – the skills of a Handgun GM do translate!
You can also read this article in Ukrainian on this link – Z&P Group
Ви можете прочитати цю статтю Українською за посиланням – Z&P Group