Overview:
We started to offer advertising when Practical-shotgun.com reached over 25,000 visits between November 2018 and November 2019, our social media channel also has high engagement from competing shotgunners.
Covid saw competitive activity cease in many regions, despite this we have maintained a healthy readership at almost 24,000. Analytics are shown below.
The cost of advertising on practical-shotgun.com is low compared to other means of reaching such a niche market.
Not only will your website benefit from direct exposure, your Search Engine Optimisation will benefit from having links on all our posts as well as the homepage.
You will be supporting a site which supports your interests by helping existing competitors and attracting new competitors.
Rates:
We currently have 4 standard advertising options, we are open to discussing custom options. Each advertising space appears on every page throughout the site. The prices are for 12 months from the date the advert starts and automatically renew annually unless cancelled:
Option 1 is an advert in 1 row at the side of the page which rotates in a carousel with other adverts, the maximum number of adverts in the rotation is 5 per row – £75+VAT
Option 2 is a static advert occupying 1 row on the side of the page, no rotation, just your advert in that row – £295+VAT
Option 3 (limited to 5) is a square advert on the side of the page, limited to 4 adverts in this area – £395+VAT
Option 4 ( limited to 3) is a static full width advert on the bottom of the page, limited to 1 advert in this area – £395+VAT
For options 1 and 2 we need a jpeg image 500 pixels wide and 200 pixels high, plus a web link.
For option 3 we need a 500 pixel x 500 pixel square image, plus a web link.
For option 4 we need a jpeg image 300 pixels high x 2080 pixels wide, plus a web link.
Once you have purchased the space you are free to change the image or the outgoing link destination throughout the year at no extra cost in order to test outcomes.
Value comparison:
Practical-Shotgun.com offers 365 day / 24 hour advertising to a niche market of dynamic shotgun shooters interested in IPSC, NRA, NTSA and 3Gun competitions.
Consider how much it costs to take an exhibitor stand at a shooting show taking into account all the costs; staff, travel, accommodation, promotional material, etc? Attending a shooting show will give you access to hundreds of people interested in shooting however only a percentage of them will be interested in dynamic shooting and only some of those will compete with a shotgun. How many dynamic shotgun competitors will you realistically get to meet each day at a show?
Consider how much an advertisement in a shooting magazine costs? What percentage of the readers are dynamic shotgun competitors? How long do they keep the magazine after an initial read?
Our vital statistics:
Practical-Shotgun.com is the go to information source for shotgun competitors in the dynamic shooting sports – our most read articles have between 4000 and 9000 views which is incredible in a niche market! This screenshot from our Google Analytics show over 25,000 visitors in the last year at time of writing.
2018/2019 analytics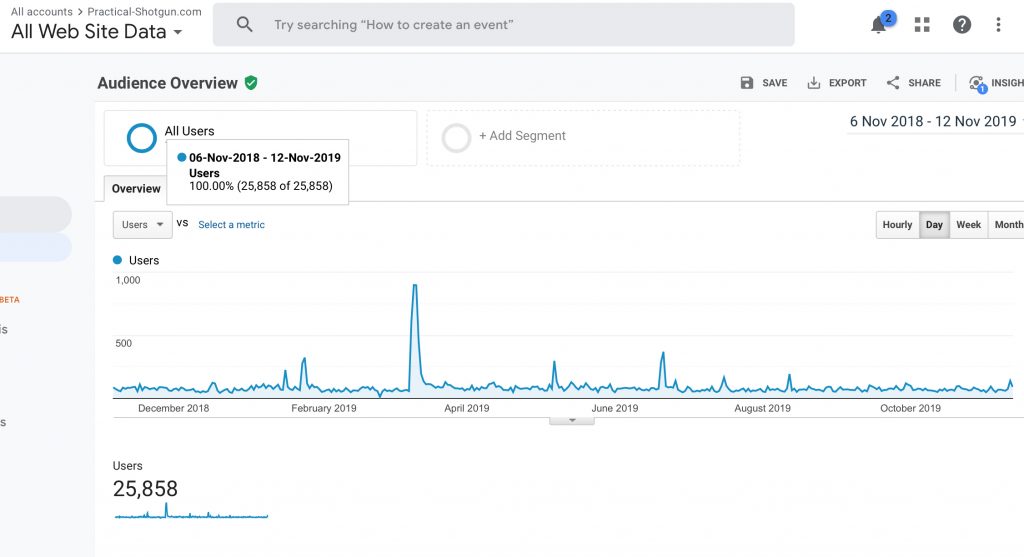 2020/2021 analytics
In addition Practical-Shotgun.com has a Facebook group with approximately 1200 members – all prospective members are vetted to ensure they compete in practical shotgun or 3-gun competitions and all articles published on practical-shotgun.com start by being publicised there in addition to other niche Facebook groups for IPSC, NRA and 3-gun shooters. This focused group also presents unique polling opportunities for market research.
You get the benefit of backlinks for your SEO:
When Google ranks your site for search relevance it looks at backlinks to your site from other pages, our adverts are set up to permit this, unlike links on many sites which contain a 'nofollow' tag. Since your advert will appear on every post as well as the homepage on our site this is extremely good for your search ranking. This applies equally to all sizes of advert, a link is a link when Google checks. Backlinks on trusted sites are a very important part of your website's SEO (search engine optimisation).
Support a site which supports your interests:
Practical-shotgun.com contains a variety of information for competitors of all levels, it also hosts resources for people who are interested in starting out in the sport of dynamic shotgun shooting. Our Beginners Guide has had over 2000 views at the time of writing as proof that prospective competitors are coming to the site for information.
Terms:
Advertisements will be published upon payment, a VAT invoice will be emailed when you book your space.
To advertise please contact us at: